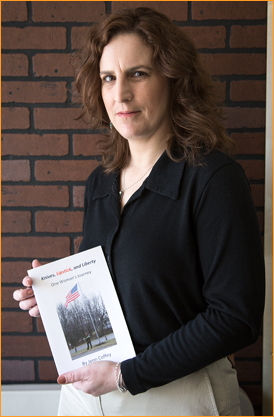 A book was written a lifetime ago. Selling over 500 copies worldwide. A piece of Jenny's past but not her totality of today. She is an everchanging wonder of musings, articles, and art, spending each day striving to become a better human than she was the day before. Read it with an open mind and know the person in the book is not the person of today but a shadow of a long-ago past full of triumphs, tragedies, good works, and regretful lessons. Ebook is available in the ipmNation Warehouse.
"Knives, Lipstick and Liberty – One Woman's Journey" (Kindle Version Only) is Jenn's story, in her own words, on how in five short years she went from not being involved in politics at all to being recognized around the country for her knife advocacy, and her success in changing laws in her own state.
"So here I sit, five years after moving to New Hampshire with a simple plan to live in a state where liberty still exists and to raise my son in a better environment. It seemed like a simple plan at the time, a good move to make. So how did I end up a New Hampshire state representative, the national director of legislative affairs for the Second Amendment Sisters, and heavily involved with so many organizations? Good question, and one that not one person who knew me before the move would ever have seen coming, and yes, that includes me. "Knives, Lipstick, and Liberty – One Woman's Journey" is the story of how my life changed so dramatically in just five short years. It is my hope that by sharing this story, others will join me in the fight for Liberty"
From the Concord Monitor as published October 29, 2012 as part of an article entitled: Why so much love for N.H. this election? Electoral math
The Coffey Chronicles
by ANNMARIE TIMMINS
Monitor staff
Watch state Rep. Jenn Coffey on the floor of the House and you'd think she was swaddled from infancy in the "Don't Tread on Me" flag.
An Andover Republican, Coffey is pro-gun, anti-regulation and well-versed in the Constitution. She could be the poster girl for the Free State Project, the Republican Liberty Caucus and the Second Amendment Sisters.
It was Coffey, after all, who sponsored a bill last year requiring the state to post warning signs at the Massachusetts border so gun owners wouldn't be caught unaware in the anti-gun Bay State.
Turns out, that's the new Jenn Coffey.
Seven years ago, Coffey was a Massachusetts resident (true!) who viewed her husband's political rants about government intrusion as "background noise," according to an autobiography she's written. The title is fantastic: Knives, Lipstick and Liberty.
"There were times when (my husband) Billy would point out certain things about the direction our country was headed in, and I would nod my head in a 'Yes, Dear' fashion and then forget about it," Coffey writes. "Sometimes I would tell him he was nuts and getting into conspiracy junk."
The couple argued over radio stations: he wanted to listen to "political crap" and she wanted to hear music.
That all changed one day in 2004 when Coffey went to work and had to scan her fingerprints to clock in. Then she started hearing about the Patriot Act.
By that summer, the Coffey was on board with her husband and decided to leave Massachusetts. They looked at two states Florida (her pick) and New Hampshire (his). Turns out, Billy Coffey had already been chatting online with New Hampshire Free Staters and had even voted with them in 2003 to make New Hampshire their headquarters Among other things, Coffey's book shows why the Free State Project is so appealing to newcomers: When the family arrived in New Hampshire, Coffey quietly ill with a medical condition, they were greeted by a huge group of strangers ready to move them in. They'd all connected with the Coffeys through the Free State Project.
In no time, Coffey was running for state representative, leading the Second Amendment Sisters gun advocacy group, introducing legislation for Pro-Gun New Hampshire and becoming a Republic Liberty Alliance star.
Coffey has a nice writing voice, and Knives, Lipstick and Liberty is a quick read complete with appearances from Free Staters, Ron Paul and gun rights activists.