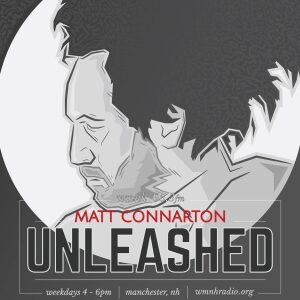 LIVE WEEKDAYS 4PM EST
Matt Connarton Unleashed is a weekday afternoon drive talk show. Jenn is happy to be a co-host for most Monday afternoons with Matt. With a host who is independent and uninterested in carrying the water for any political party, Matt Connarton brings an outsider's perspective that is woefully underserved in political talk radio. Add in the motley crew of FOM (Friends of Matt) who cycle in and out of the broadcasts, song parodies, irreverent humor, unscreened callers, some brave guests, and forays into discussions even more dangerous than those of politics, and you've got Matt Connarton Unleashed!
Find more information on MattConnarton.com and ipmNation.com
Available on all major podcast platforms.
Where to listen live on radio
WMNH 95.3 FM in Manchester, NH
Where to watch live on cable
Comcast 97 in Manchester, NH
Where to hear replays
AOW Radio Network
Where to listen or watch live online
Facebook
ipmNation1
Tomorrow Radio
Traveller FM
WMNH 95.3 FM