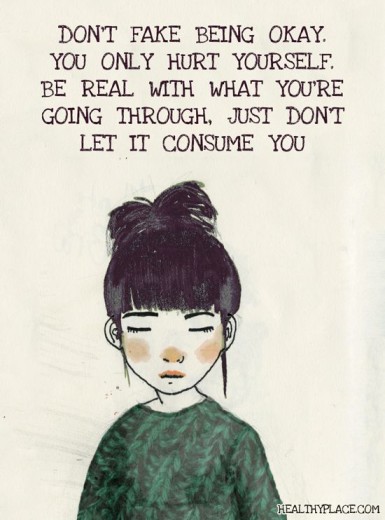 I heard someone say once, no one gets out of here alive. How true is that and a little cheeky. People often concentrate on a person's illness more than their life. In fact, often that is started by us, the patients. We become so consumed with fear and anger it can be all encompassing and hard to see the real world through.
The pain you feel is real, both physical and mental. Trying to avoid admitting that is only harmful to yourself and those you love. Boy, it took me years to figure it out. So much wasted time 'worrying' but not living. See if I have learned anything it is to live the best I can, even when stuck in bed. Having a diagnosis for why all these things have happened, helps ease the mind. I know that might sound strange but imagine your body failing to work right piece by piece and no one knows why, that's the nightmare and all too often many of us live in it for years before we are diagnosed and that also means, found to late to reverse.
It's been over a month now, attempts at doing much of anything lead to shortness of breath, pain, spasms, and swelling that could rival a pregnant lady, but I wear it well, I have to laugh at that one. Humor has become my go too. Sarcasm my best friend. I can find interesting ways to have fun with IV lines, office visits with fun socks, and now working on plans for infusion weeks. I was afraid of the infusions to the point where I was ready to back out and just stop the treatment plan. It took a lot to be able to say OK I will try it.
Inside that peace I felt in the Mikvah still remains. The comfort I felt and the presence of my matriarchs still cling to my arms. It's as if at times I can feel them around me, loving me. I can' hear my Grandmom saying "my Jennifer, bubbala it's going to be alright I'm here, I love you.", my Auntie Ester "Genedel come in for dinner", Auntie Sally singing "Tiny Bubbles" to me, and my Auntie Gertie laughing with me, always laughing and ready to get down in the floor and play with toy cars.
I was so blessed to be raised by incredibly strong women. Women who had escaped hate and bigotry and lost loved ones to the same. Women who faced difficulties with honor and dignity. To deserve to be among them, is to approach this the same as they would. With quiet dignity and hope.
Who would have thought words like "peace" and "quiet" would describe me?