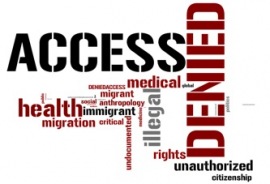 Recently and I mean on election day, I went to a Medicare specialist to sign up during open enrollment for insurance. I wanted to pay double what I was to get a better policy. I was denied access to the only two plans less than 900 a month in premiums. I was denied because sometimes I need help breathing. I was denied because my current insurance, which has been the cause of hospitalizations, is not leaving the state. We never even got to the cancer question lurking in the bunch.
I went in happy planning for my appointment, I brought every document I could think of that maybe needed, I hoped for a smooth process and a life with better care and less risk.
I was told all about a great plan that would cost me $250 more a month, but it would cover everything. My lymphedema sleeves that prevent me from getting a life threating infection or blood clot would be included, the monthly flushes of my port they use to give IV medications, covered. If the walker I have needed to be changed to a better one, cover and even a better transport wheelchair so I could get out more. Especially if I needed the emergency room to help me with medications to get my heart rate out of dangerous zones from 150-180 a minute, every time, almost every month for that last two years of my life, it wouldn't put me into thousands of dollars of debt which is what will happen now.
I miss my days as an EMT and first responder. When I could climb a flight, some stairs in moments, lift a large cardiac monitor and use it to help a soul in need. For nearly two decades I did my best to help people in my paying jobs as a nursing assistant and as an intermediate EMT as an emergency room tech. I was a proud member of our trauma team. I proudly told others what I did for a living. I was allowed to be apart of a team of nurses, doctors, physician assistants, lab tech, coordinators and more. As a team, we did all we could for everyone that came through our doors. I loved that I never knew anything about a person's financials only what they needed to help their body or their mind.
I miss the pager going off at home at 2 am in a snow storm to rush to the jeep get into four wheel drive and rush to the scene and someone in need. A teenager in a car accident, the man who has served tour after tour overseas near death and in need, to the elderly lady that just needed some furniture moved and a little help making dinner one night. The firefighters and EMTs were working side by side as a team to do the best they could for their community.
Everything I ever did was for the purpose of caring for the sick and injured. There were times I felt humbled that I was allowed even to do the job, while others I would hug my son and cry myself to sleep horrified by the day and the life lost.
Then breast cancer happened. At first, I said I can do this; I can win. The experts said I would be back to work in 6 months and out of treatment in a year, then onto just pill treatment with six-month check-ups. They were all wrong. I never knew going in for a 7 ½ hour surgery that when I came out. I would not be able to walk well and would need a wheelchair, I couldn't stand up straight with all the tightness in my chest. An iron bra and corset every waking moment of the day. A diagnosis of "rare" the "less than 1%" of breast cancer warriors, and no cure yet.
Two more surgeries, physical therapy, lymphatic therapy, painful and gruesome nerve blocks near the spine and into my abdomen to this day. Medications that make life hard and painful, tamoxifen. My legs hurt every day and my mind is clouded and lost. Often gone in mid sentence or a stutter as the words try to come out.
A desire to do and succeed more but a staircase that stands in the way of indoors and outdoors or places. Understand that taking a risk hurts more than only me. That as of January 1st I will have a new insurance but not the one I wanted to buy.
When the ACA, aka Affordable Care Act, aka Obama Care, aka Romney care on steroids. Call it what you wish. Because it DOES NOT INCLUDE MEDICARE OR MEDICARE PRODUCTS, they can deny you coverage. That is what happened to me.
I was denied the ability to choose to spend more for better care; I sat there in the office telling her I was worth the extra money it would cost to have a chance at a life with more quality instead of just quantity. I begged the last insurance company Mutual of Omaha, but they said no, no because sometimes I need a hand breathing. Despite having my concentrator and not needing rentals or tanks, the mere piece of paper that says so, is enough. Etna denied for having the wrong insurance this year.
Gone are the pipe dreams of living on the sea shore the warm breeze of the Gulf coast filling my nostrils and throat with the salt air that comes as waves crash and seagulls sing among the waves. I'm landlocked and likely no way out.
Everything must go to medical, there are no choices for me to make, the government made them for me. When they ran from door to door, called you, and stood there talking to you, eye to eye, they lied. They told you and I we could keep our doctors, our hospitals, our healthcare. Why is what I want to know. Why is this OK? Why do people spend more time hating each other over the color of their skin or the book they choose to hold close than those suffering because of government regulations and rules?
I know I am not alone, I am the silent minority, we are the sick, the injured, the dying. There are no reasons to fear "death panels" when denial of care does it for them. These are the people elected to office who can take their loved ones to doctors and dentists. Haha, I had to laugh I have dental insurance, but not one dentist in the state will take it. Tamoxifen and Lupron did a number on my teeth. Breast cancer started this, and now the government has found a way to silence the sick and hurting minority for good. I have no words for the hell that means. Do You?